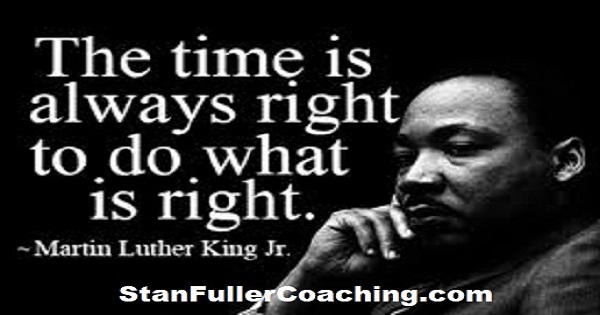 I guess when most think of Dr. Martin Luther King, the first thing they
think of is his I Have Dream speech. In my studies of Dr. King there are
many of his inspirational quotes and what I call words of Philosophy that
are very profound.
Dr. King was a man that practiced what he preached. This collection of
inspirational quotes portrays a glimpse of the philosophy and life of
Dr. King.
The dignity of Work, Excellence and giving one's best.
All labor that uplifts humanity has dignity and importance and should be
undertaken with painstaking excellence.
If it falls to your lot to be a street sweeper, sweep streets like Michelangelo
painted pictures, sweep streets like Beethoven composed music … Sweep
streets like Shakespeare wrote poetry. Sweep streets so well that all the
host of heaven and earth will have to pause and say: Here lived a great
street sweeper who swept his job well.
Whatever your life's work is, do it well. A man should do his job so well
that the living, the dead, and the unborn could do it no better.
Equality, Justice and Injustice:
Human progress is neither automatic nor inevitable… Every step toward
the goal of justice requires sacrifice, suffering, and struggle; the tireless
exertions and passionate concern of dedicated individuals.
Injustice anywhere is a threat to justice everywhere.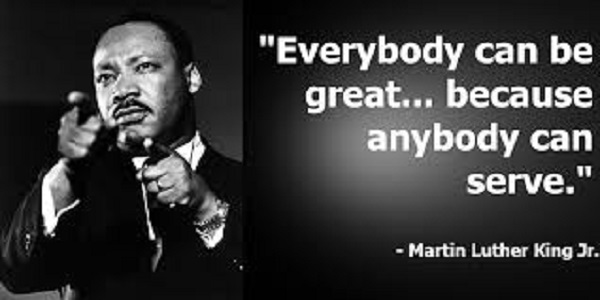 The Measure of a man: Character, Reality
The ultimate measure of a man is not where he stands in moments of
comfort and convenience, but where he stands at times of challenge and
controversy.
I have a dream that my four little children will one day live in a nation
where they will not be judged by the color of their skin, but by the content
of their character.
Whatever affects one directly, affects all indirectly. I can never be what
I ought to be until you are what you ought to be. This is the interrelated
structure of reality.
Love, Peace, Forgiveness and Nonviolence:
I refuse to accept the view that mankind is so tragically bound to the
starless midnight of racism and war that the bright daybreak of peace
and brotherhood can never become a reality… I believe that unarmed
truth and unconditional love will have the final word.
We must develop and maintain the capacity to forgive. He who is devoid
of the power to forgive is devoid of the power to love. There is some good
in the worst of us and some evil in the best of us. When we discover this,
we are less prone to hate our enemies.
Nonviolence is a powerful and just weapon. which cuts without wounding
and ennobles the man who wields it. It is a sword that heals.
Education Thinking Leadership and Ignorance:
 
The function of education is to teach one to think intensively and to think
critically. Intelligence plus character – that is the goal of true education.
Rarely do we find men who willingly engage in hard, solid thinking. There
is an almost universal quest for easy answers and half-baked solutions.
Nothing pains some people more than having to think.
A genuine leader is not a searcher for consensus but a molder of
consensus.
Nothing in all the world is more dangerous than sincere ignorance and
conscientious stupidity.
Enjoy a Happy and Safe  Dr. Martin Luther king Day.
Thanks for the visit, please like, comment and share…
Until next time… Enjoy and Prosper
Stan Fuller
Never allow your dreams to die!