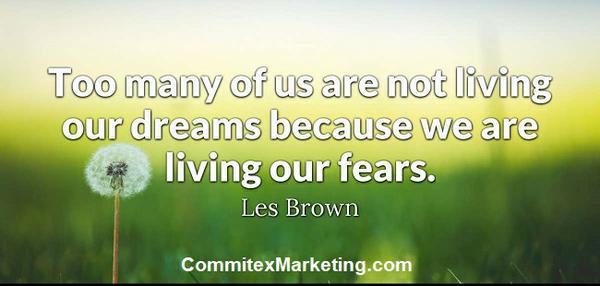 You know, often times, good hard working people hold themselves back
from pursuing their dreams become they allow the Dream stealer, old
man F.e.a.r. take control.
They see what's possible, but they don't always believe it's possible, for
them, they fear they don't have what it takes to accomplish their hopes
and dreams.
Do't allow F.e.a.r. to Steal your Dreams!
Pope John XXIII puts it this way: Consult not your fears but your hopes
and your dreams. Think not about your frustrations, but about your
unfulfilled potential. Concern yourself not with what  you tried and failed
in, but with what it is still possible for you to do.  – Pope John XXIII
When you start in life, if you find you are wrongly placed, don't hesitate
to change, but don't change because troubles come up and difficulties
arise. You must meet and overcome and conquer them. And in meeting
and overcoming and conquering them, you will make yourself stronger
for the future. – Charles M. Schwab
This may just be a "feel-good" message that many will forget by tomorrow
(which is fine by me), or it can be a call-to-action for folks to stand up and
get the results they deserve…
If you're a part of the latter, may I suggest you Join Us sooner rather
than later.
We'd be honored to have you, and I can't wait to see the results you may
be getting.
I say, sell YOURSELF first on what's possible and always remember,
Never Allow Your Dreams To Die…
Don't allow F.e.a.r. (False evidence appearing real) to Steal your dreams!
Thanks for the visit, please like, comment and share…
Until next time… Enjoy and Proper!
Stan Fuller
StanFullerCoaching.com